Resistance Training Belt
TAKE YOUR FIGHTING SKILLS TO THE NEXT LEVEL!

The Resistant Training Belt adds the PERFECT amount of resistance to maintain proper technique and integrity of striking movements. Resistance training plays a massive role in every sport:⠀⠀⠀⠀⠀⠀⠀
Enhance Speed
Gain Explosive Power
Increase Muscle Strength & Conditioning
Burn Fat
Designed from a biomechanical perspective to enhance the movement and strength of your lower and upper body. Resistance training has been around for years but never like this.
For the first time ever, you can train the EXACT motions and forms used in your sport!

BENEFITS
✔ Enhances Your Physical Abilities – The added resistance to your body movements helps improve your general explosiveness, speed, and strength
✔ Suitable For Any Training Program – Added benefit of burning through those excess calories, Power Punch Pro also makes for an excellent killer-cardio workout
✔ Protects Your Joints – Allows you to train many times harder without adding any additional tension to your joints
✔ Adjustable Resistance – Buckles can be adjusted to add more elastic rope to increase resistance and meet your various requirements
✔ Adjustable Fit – The belt is padded to add extra comfort to your waist. It is also easily adjustable and can be changed from 28.7 inches to 41.9 inches, both wrist and ankle straps can also be adjusted to fit so that you can get the perfect workout
✔ Helps Maintain Your Guard – Adds a downward force to your arms that will strengthen your guard
✔ Durable and High Quality – Made from high-quality natural latex, nylon fabric, and ABS – providing comfort, ease, and safety of use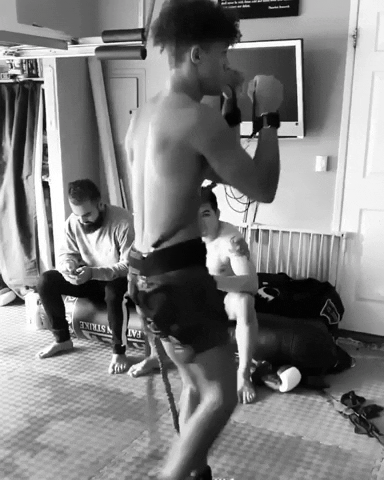 Features
– Soft latex material for comfort, easy and safety use.
– The buckle can increase more elastic ropes to strengthen resistance.
– Explosive power as you take your physical skill to the next level.
– It is very useful to get fit, lose weight, gain muscle, get stronger and achieve your fitness goals.
– Can use a wide range of personal exercises to enhance leg, back, chest, shoulder and core strength.
– Adjustable waist strap great for waistline 28.7″ to 41.7″, adjustable ankle strap fits for most person.
– To enhance the leg strength of any squat action or participate in any movement to promote jumping, speed and strength, build strength
– Playing a very positive training role in training, such as boxing, fencing, basketball, soccer, tennis, track and field sports training