Waist Slimming Machine
ARE YOU READY FOR THIS SUMMER?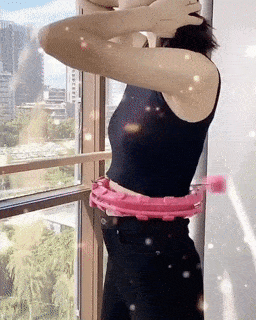 ⭐️ Burn up to 500 calories per hour while having fun! Our Waist Slimming Machine provides a complete workout by simply rotating the gravity ball attached to the hoop.
⭐️ Unlike a classic Hula Hoop, our Waist Slimming Machine adapts perfectly to your height and will never fall out! Do more exercises in the same amount of time.
THE NEW TIKTOK TREND ✨
Our Waist Slimming Machine has been viewed by millions of people in the last 40 days and because of that we have been out of stock 3 times !
ALL-IN-ONE WORKOUT
⭐️ The Waist Slimming Machine does not only slim your waist , it effectively strengthens the abdominal and lower back muscles and softens the pelvis.
⭐️ The cardiovascular activity and the 500 calories per hour that the Waist Slimming Machine allows you to burn will allow you to lose weight in a sustainable way!
⭐️ In just 10 minutes of use, an average of 100 calories are expended, the equivalent of a little jog! Adapt your use of Waist Slimming Machine according to your needs and desires.
ADJUSTABLE SIZE
In order to offer perfect ergonomics , our Waist Slimming Machine is made up of 24 detachable sections which adapts to all waist sizes from 50 to 130cms! This means that you can continue to use it regardless of your height changes.